JFCS helps clients 'Navigate' new careers
---
This article appeared in El Kentubano and the Jewish Louisville Community newspapers
It's 10:05 a.m. on a Tuesday and Lok Chhetri is sitting down with his first client of the day. The client, an immigrant, is discussing the possibility of getting a loan from Chhetri to start a small business.
"People don't realize that to start a business, you have to have a business plan, you have to do research marketing, you need to have financial education," Chhetri says later after the appointment is over. "There's lots of things that most people don't think about or aren't as prepared as they thought they were, when starting a business."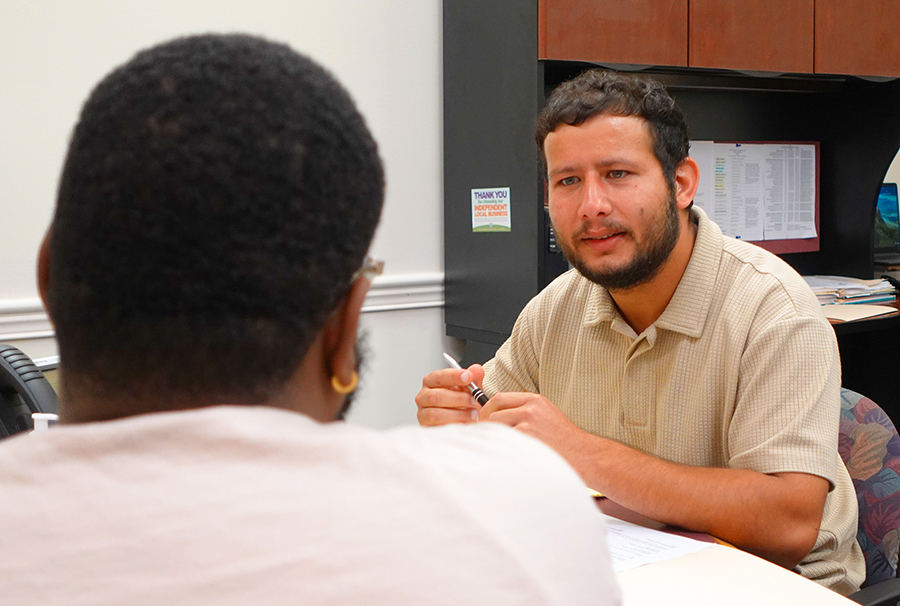 Chhetri is one of the business advisors at Jewish Family & Career Services (JFCS), a Louisville-based non-profit. For nearly three decades, JFCS' "Navigate Program" has been steadfastly committed to fostering economic growth and uplifting underserved populations like the Hispanic community in Louisville through the Navigate program's business coaching and financial planning services.
Focused mainly on immigrants, refugees and minorities, the program provides holistic support, addressing critical facets that lay the foundation for sustainable business ventures such as Business Marketing Assistance, Training & Consulting, Business Education and Credit Building Training for aspiring entrepreneurs.
"Most people have an idea of a business they want to start, but don't have the necessary tools to do so," Chhetri said. "They think they can just go out and borrow money and that's it. But what they soon find out is the only thing they've done is go deep into debt. That's where JFCS comes in. Not only do we offer micro-loans, but we help guide aspiring entrepreneurs by coaching them on all aspects of starting a business. It goes far beyond just offering loans for small businesses."
For Chhetri, helping refugees, immigrants and underserved communities are a passion for him. Originally from Nepal, he first came to America 13 years ago as part of the United Nations initiative to provide protection and assistance to refugees, asylum-seekers, internally displaced people around the world. In the 13 years since, he has experienced firsthand the sometimes-uphill battle immigrants and refugees face when coming to America.
"I think my personal experience gives me a unique perspective. I had never seen a car, or eaten a hamburger before I came to America," he said. "When you've never had opportunities that so many take for granted, it can be overwhelming.
"I've seen people come to the United States, start their own business, and find success. The clients I work with have that good work ethic, are committed to their idea, and they think all they need is the money to make it happen. But it isn't enough. You need a solid business plan, financial training and market research, that's where JFCS comes in. You CAN make your business dreams a reality, but rarely can people make it on their own. That's why I love my job. When I see a client succeed and be successful, that's my reward."
For information on JFCS and Navigate, contact JFCS at (502) 452-6341.