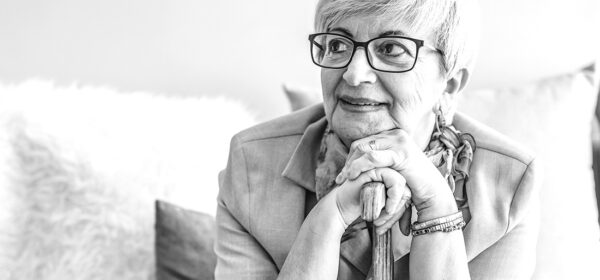 Klein Older Adults
---
Aging with Dignity
JFCS offers seniors and their family caregivers a comprehensive range of services to meet the challenges of aging. All Klein Older Adult clients are assigned a case manager or counselor who conducts an assessment and creates a plan of care specific to their unique needs. Changes can evolve over time or more rapidly, therefore, clients are routinely monitored and evaluated to assure continuity of care that identifies ongoing needs, reflects personal goals and provides for overall safety and well-being.
Navigating resources and services can be daunting in the best of circumstances and become more so when managing a crisis due to aging. Case managers assist you with identifying and accessing critical resources while planning for future care needs.

Our professional therapists create a warm, confidential and supportive environment to confront the difficulties and challenges of aging.   We are committed to "best practices" and take a holistic approach to wellness that honors the client's family traditions, culture and spiritual beliefs.

Staff assist caregivers in recognizing the issues associated with family caregiving and provide coping strategies. Issues of grief and loss, role changes, communication, boundary setting, intergenerational relationships, stress management and principles of self-care are addressed through individual and group services.

Supportive services for grandparents and older relative caregivers of children to prepare for the health, educational, nutritional, and other needs of the children in their care, while maintaining their own physical, mental, and emotional well-being.

Services begin with a comprehensive assessment to evaluate physical, cognitive, social, financial, spiritual and medical needs. A care plan is created to reflect the needs and desires of the aging person and plan for both immediate and long-term solutions that promote safety and well-being.

PALS provides seniors with an affordable and convenient transportation option for non-emergency medical appointments, personal appointments, grocery shopping, general errands and more. Rides are provided door-to-door, door-through-door and door –through-appointment. Wheelchair accessible van is available.

This non-medical service offers personal care and grooming, meal planning and preparation, light housekeeping, laundry, medication reminders, respite, companionship and socialization. A comprehensive assessment is completed and a care plan is established to support safety and comfort in your preferred living situation.

To help serve our senior community, JFCS and Klein Older Adults now offers Senior Crime Victim Services to advocate for older adults who have been the victims of crime or elder abuse.

According to the Centers for Disease Control & Prevention, 1 in 10 seniors are victims of elder abuse, but only 1 in 24 cases are reported or detected. Seniors deserve to be protected - not because they are vulnerable, but because they are valuable to our community.

The Klein Older Adults Senior Crime Victim Services Program reduces the barriers seniors face when accessing the legal justice system. Our goal is to promote recovery from crime and increase awareness to avoid potential threats.

Support groups provide family caregivers with the opportunity for mutual support, problem solving and education around a host of aging concerns that include self-care, boundary setting, resources and safety for your loved one.