Announcing the 2023 JFCS MOSAIC Awards Honorees
---
Jewish Family & Career Services proudly announces the five outstanding individuals who will be honored at the 2023 JFCS MOSAIC Awards. "The JFCS MOSAIC Awards are all about honoring Louisville's diverse leaders, changemakers & humanitarians. We are constantly reminded of how important it is to celebrate diversity because it is what makes Louisville such a wonderful city," said JFCS CEO David L. Finke, Ph.D. "The inspirational stories of the five 2023 JFCS MOSAIC Honorees prove that we succeed when we expand possibilities for everyone, creating a Greater Louisville that celebrates diversity."
We are thrilled to announce the 2023 MOSAIC Honorees:
Natalia Bishop: Investor | Founder | Inclusive Innovation & Entrepreneurship Leader, University of Louisville – Health Equity Innovation Hub
Luis de León: Journalist, Musician & Visual Artist, La Esquina
Victor Eddie, Clinical Counselor, New Hope International
Maha Kolko, Sponsorship Developer, Kentucky Refugee Ministries
State Representative Nima Kulkarni, Managing Attorney, Indus Law Firm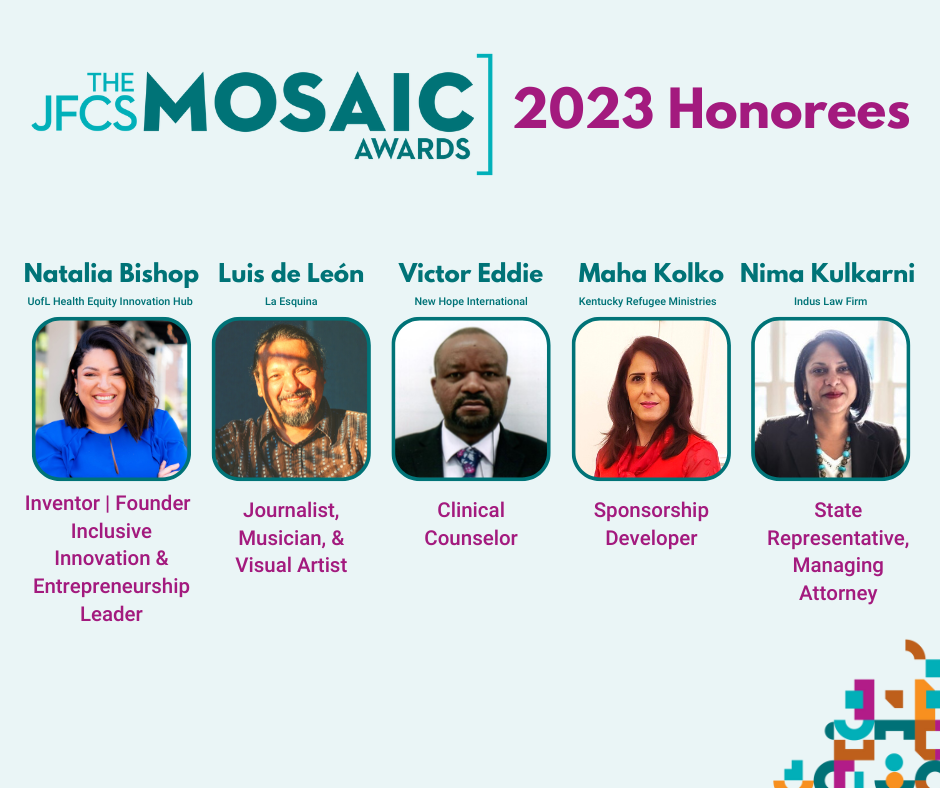 Since 2006, JFCS has honored over 75 individuals with the MOSAIC Award, an artistic representation of Multicultural Opportunities for Success and Achievement In our Community. This annual event benefits JFCS and bolsters the work we do every day to expand possibilities for each person and every family in Greater Louisville.

The 2023 JFCS MOSAIC Awards will be held on May 16, 2023, at The Olmsted.
---
If you are interested in corporate sponsorship of this incredible event celebrating diversity, contact JFCS Director of Advancement Courtney Evans at 502-322-1928.