High Holiday Food Drive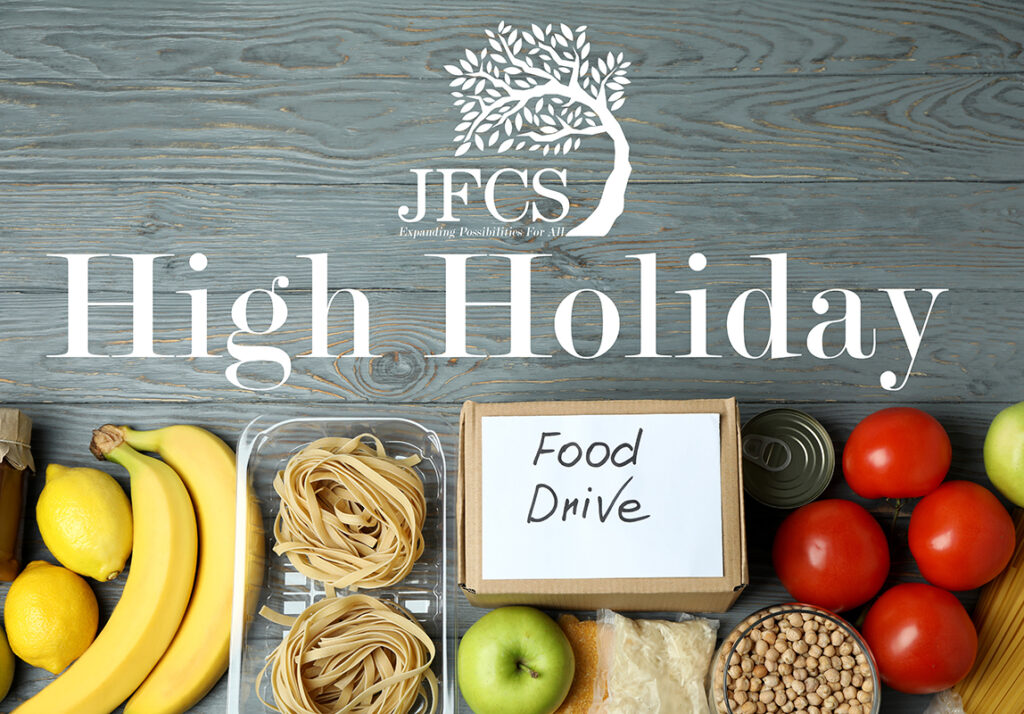 Our annual High Holiday Food Drive is approaching! The demand for food has increased by 40% over the last year. Please know that all contributions – in kind or financial – are greatly appreciated. We are able to stretch dollars further by purchasing food from Dare to Care, however, in kind donations provide much needed variety to our shelves.
Drop off in kind donations at your synagogue during the high holidays or drop off donations at JFCS on Sunday, October 8 from 1-3 p.m. We welcome any non-expired, regular sized, non perishable food items as well as personal care and cleaning supplies.
Items needed:
Pantry Staples:
Regular sized (not bulk), non-expired:
• Canned fruit: mandarin oranges, pineapple
• Canned vegetables: collard greens, spinach, beets
• Canned tomato: crushed, diced, paste, spaghetti sauce
• Canned garbanzo beans
• Assorted pasta
• Instant rice
• Instant potatoes
• Breakfast cereal
• Oatmeal canisters
• Ground coffee
• Tea bags
Cleaning products:
• All purpose cleaner
• Dish soap
• Laundry detergent
Snacks:
• Pretzels
• Graham crackers
• Dried fruit
• Cookies
• Granola bars
• Chips
Baking items
• Canola oil
• Olive oil
• Flour
• Sugar
• Salt
• Spices
Personal care items:
• Feminine hygiene products
• Toothpaste
• Mouthwash
• Tissue paper
• Toothbrushes
Family Mitzvah Opportunity
Join us on October 8th from 1-3 p.m. and help us weigh, sort, and stock donations from the drive. Snacks will be provided.
Email Amarkel@jfcslouisville.org if you are interested in any of the above opportunities!
Make A Donation
If you are unable to make it JFCS on October 8, a monetary gift can help us purchase items at cost and supplement items we might fall short on during the drive.
A gift of $25 can help JFCS purchase fresh fruit and vegetables for clients in need.
For $50 JFCS can help us purchase shelf-stable items for community members needing assistance.
A donation of $100 can help JFCS provide household items and cleaning supplies.
With a gift of $250, you can provide food for a family of four for two months.
Click here to make a monetary donation to our Food Pantry.